Mfr. Westland

Westland Bimini Tops provide shelter and shade on boats with attachment points between 54" - 60" wide. Constructed using top quality marine materials and fabrics...

$240.72 - $392.21



View Details
Mfr. Westland

Westland Bimini Tops for boats with 61" - 66" wide mounting points give shade from the sun and protection from the elements. Get more boating in under a bimini top...

$249.11 - $404.45



View Details
Mfr. Westland

Westland, Bimini Tops, 67" - 72" Width Range are constructed of quality marine materials and fabrics. A Bimini Top offers shade and shelter from the sun and elements...

$256.15 - $430.11



View Details
Mfr. Westland

Westland Bimini Tops give shelter and shade on boats with mounting points between 73" - 78" wide. Top quality marine workmanship, materials and fabrics will give years of enjoyment...

$261.33 - $440.78



View Details
Mfr. Westland

Westland Bimini Tops to mount on boats with attachment points between 79" - 84" wide provide shelter and shade for captain and crew. Constructed using top quality marine materials and fabrics...

$266.33 - $456.11



View Details
Mfr. Westland

Westland Bimini Tops for boats with 85" - 90" wide mounting points give shade from the sun and protection from the elements. Get more boating in under a bimini top...

$280.50 - $476.35



View Details
Mfr. Westland

Westland Bimini Tops provide shade and shelter for boats with attachment points between 91" and 96" wide. Expect years of service thanks to top quality construction, materials and fabrics...

$312.20 - $493.15



View Details
Mfr. Westland

ST Series Bimini Tops offer sun and rain protection on smaller boats with the same quality construction and marine materials as all Westland biminis. ST Biminis are 66" long and 42" in height...

$187.01 - $214.69



View Details
Mfr. Westland

Wakeboard Tower Bimini Tops mount under your boat's tower and provide shade while you're out on the water. Constructed using marine grade materials and fabrics for years of enjoyment...

$250.66 - $280.97



View Details
| | |
| --- | --- |
| Products: 1 - 9 of 9 | |
Search for a bimini by Boat Make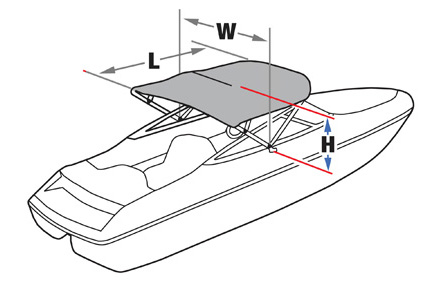 Select your BIMINI HEIGHT

Start with the Total Desired Height: Measure from the centerline floor of the boat to determine how much headroom you want for the bimini.
Mounting Point: Decide where you will mount your bimini top.
Floor to Mounting Point Height: Measure the vertical distance from the centerline floor to the mounting point on the sides of the boat.
Determine Bimini Height: Subtract the Floor to Mounting Point Height measurement from your Total Desired Height. This is the height that you want to use when selecting your bimini.

Select your BIMINI WIDTH

Measure the distance from the selected bimini mounting point on one side of your boat to the same location on the other side of your boat (this usually is not the same as the beam or width of the boat).
Select the appropriate bimini width range that includes your width measurement.

Select your BIMINI LENGTH

Decide how much area you wish to shade on your boat.
Select from the available bimini lengths.
Post a question or comment about Bimini Tops & Boat Shades to our online boating community.

Do you have a Bimini Top for a 1992 Bayliner Capri 4.3
Twenty footer.

Sincerely
Mauricio

Submitted by: Mauricio

We do not carry bimini tops for specific boats boats. We do carry Bimini Tops that are universal in size.

Do you carry the bimini top for a Hydrosport Walkabout?

I need to get a new bimini with vinyl front and side windows for a 2006 21' Hydrosport Walkabout. Do you carry this?

Submitted by: markdurgin

Unfortunately, what you are looking for is a factory direct part only. You will need to contact your boat manufacturer.

1991 sea ray 200 sun canopy

How much for a 1991 sea ray 200 sun canopy in Spain?

Submitted by: mr duckering

2004 hunter sailboat bimini

HELP! Could someone please tell me where to find a bimini top for my 2004 Hunter sailboat??
I have been having the hardest time trying to locate one!

Submitted by: Jennifer

Sure - no problem (unless there is something really weird about your setup)…

We will need some measurements. The width (where you are mounting it), the height from where you are mounting it (you want to have 6' in overall height) and the length (which would likely be 6 or 8 feet).

I am looking for some sun relief in the front of my boat while drifting, slow trolling, or anchored. I have a 26' 07 Pro line Super Sport.

Answer

You could install a small Bimini Top on the bow of your boat. We also have a selection of Sunshades & Umbrellas.


Submitted by: Greg

Show older >>